What is ASAP's Acceleration Grants Campaign?
ASAP's Acceleration Grants campaign is empowering 1,000 new schools across America to deploy one of the innovative program models uncovered via ASAP's 2012 Physical Activity Innovation Competition. Grantee schools are receiving the programmatic materials, technical support, and a $1,000 financial kick-start to launch the program of their choice during the fall of the 2013/2014 school year.
That's $1 million to get America's kids moving.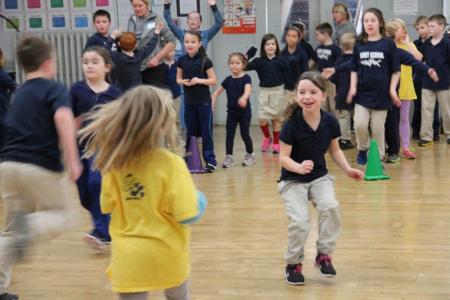 The Acceleration Grants campaign calls on champions – any leader passionate about this cause with close ties to his or her school community – who wants to make a difference. The Innovation Competition taught us that it was often a single individual –a dedicated physical education teacher, an inspired mom or dad, an enthusiastic administrator who sparked waves of change in his or her school. With the right mix of gusto, an initial team of supporters, and a program idea with legs, these champions will create a school culture that embraces and prioritizes movement. This is the tipping point ASAP is helping schools reach all across the country.
The White House Takes Notice
In 2009, a year after President Obama took office, First Lady Michelle Obama unveiled her signature campaign, Let's Move!, a campaign designed to raise a healthier generation of American children. Since its inception, Let's Move! has been instrumental in elevating the visibility of the childhood obesity epidemic. Her work with parents, schools, teachers, faith organizations, cities and communities has spurred unprecedented strides in addressing this critical national issue.
In February 2013, the First Lady re-ignited her campaign by turning her attention toward one actionable piece of the solution: boosting physical activity in America's schools. This new effort, Let's Move! Active Schools is a collaboration of ten organizations dedicated to making it simpler for schools to become active schools. ChildObesity180 is proud to be a founding partner of this initiative. As a grant maker, ASAP is playing an influential role in building a strong base of active schools in all 50 states.